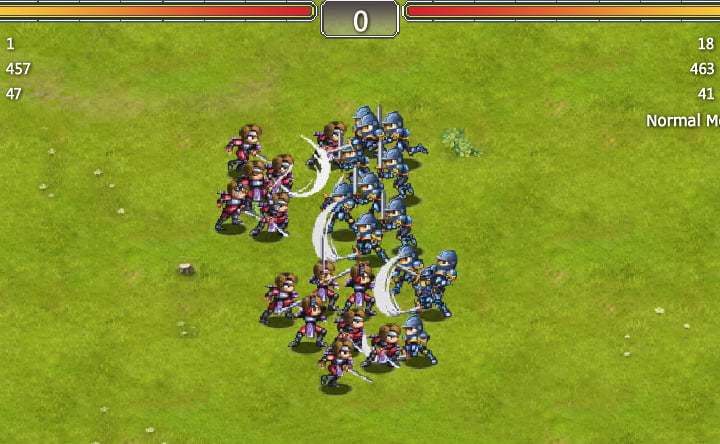 Miragine War puts you in control of an army, and your units consists of newbies, veterans, zombies, samurai, swordsman, ninjas, novices, heavy swordsman, monks, vampires, cavalry, immortals, mages, iron knights, dread lords and high lords. Miragine War is very simple to play, and the goal is extremely simple too. At the end of each battle field there are crystals, and you have to get your units to go and destroy the enemy's crystal, and the enemy will try to destroy your crystal too. You choose which unit you want to send out and the unit will start walking across the battle field towards the enemy's crystal, and the enemy's unit will also be coming towards your crystal too. The units will eventually clash, and hopefully your unit wins and gets one step closer to the crystal.
You can play Miragine War on easy, normal, hard or abyss. Easy and normal are very easy to beat, and hard is very challenging and abyss is nearly impossible to beat. Easy and normal can be beaten fairly easy just by sending out any type of unit, but if you play Miragine War on hard then sending out newbies for a little bit is the best bet. You get money once the thirty second timer reaches zero, so just keep sending out newbies until you reach eight hundred in money, and then send out iron knights or dread lords, and if you have money left over then send out veterans or heavy swords men. If you choose to play the game on Abyss then your best bet at beating Miragine War would be to just not send out any units until you have six to eight hundred in money, and then send out a whole bunch of heavy swords men and go from there. Abyss is very hard and it can seem impossible to beat but it is not impossible but it is very challenging.
Miragine War is a great game overall, and the game can be played on many of the popular gaming websites. Miragine War doesn't involve a lot of controls, and all you have to do is point the mouse cursor to the unit you want to send out to the battlefield and that is it. Go and give Miragine War a try because you will probably enjoy the game quite a bit.