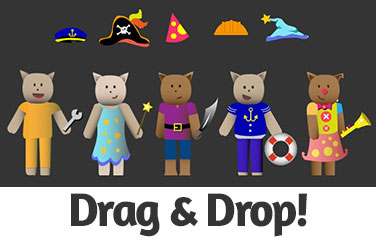 Although I don't advocate or encourage children of preschool age spending much time in online gaming, I realize that computer gaming is a fact of life. And since children will most likely be playing online games, safe or unsafe, I want to know where they are visiting and what they are seeing, hearing and experiencing online. I want to make a note, too, that children should be limited and timed on their online and gaming time. My rubric is one half hour of gaming and then the child must switch activities to a physical, preferably outdoor activity. Gaming of any kind should not supersede reading either. In other articles, I will discuss sites for other ages.
These sites will require a free download of Adobe's flash and or Macromedia Player. Some may encourage you to sign up for a free newsletter as a parent. These newsletters often give helpful, interesting information and good parenting advice. You will not need to pay for anything, although kids may need to have a user ID and password for safer online gaming.
pbskids.org will always get my vote for top ten online games for kids five and under. Although character driven, PBS explores important issues with kids and incorporates lots of information in its games. The characters on PBS show healthy influence for children: Arthur, Fetch with Ruff Ruffman, Caillou, Berenstain Bears, Reading Between the Lions, and other children's favorites. My objection to any character-driven game or television based website, is that they develop a groupie or follower vs. leader mentality in kids. I like to see kids develop their individuality and creativity, not travel paths already carved by others, especially TV characters. PBS does offer healthy role models;children just need to be guided and watched so as not to develop a cult-like devotion to any character.
primarygames.com is a bright cheerful websites with all kinds of educational material to explore. Kids can learn and play math, science, language arts and social studies games. there are puzzles, dot games, e-post cards and lots of free printables. This site is free and approved by most all schools for student use at school. The sponsor of this site is Willy Wonka candies. There are some cute arcade style games as well; my daughter's favorite is Nerds Rope Wild Coaster Game. You'll need to install a free flashplayer to play.
www.lego.com This site will be better for those nearer to five. Boys and girls will enjoy the Lego clubhouse, builiding games, arcade Lego games. Legos get my seal of approval for top notch creativity, engineering, building and mathematical development. I also like that Lego comes from Denmark and is still based there and not in some third world nation, made by slave or child labor. Explore the fun and learning with Legos.
fisher-price.com is a perfect game site for very young children. There are lots of sweet little games for children under five based on the Fisher Price toys. Your toddler can enjoy ABC games, counting games, tap and color, phonics games, peek-a-boo games and musical instruments online music maker game.
Happy online gaming to you and your toddlers and preschoolers!